The fog, contained within our versatile A-frames, is very effective, penetrating right into the root hairs, so they absorb exactly what they need, when they need it.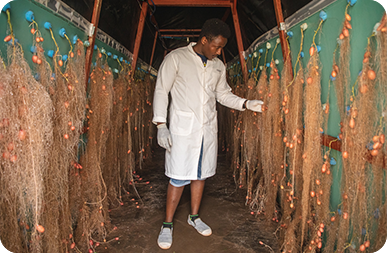 A low-footprint farming solution
The planet is running out of water and land to feed a growing population. And climate change is making the problem more urgent each year. Traditional farming is simply not sustainable. And even advanced agricultural technology is often energy intensive, with a high carbon footprint. We need to upgrade our farming technology. Airponix is the sustainable agricultural production system we need to provide the whole world with fresh, high-quality abundant produce. Airponix offers a low-carbon way to grow food, using 95% less water and a fraction of the land.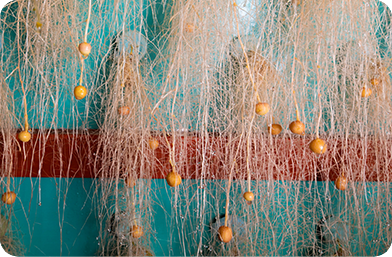 Farming technology inspired by nature
Our unique fog system mimics nature to deliver optimal water and nutrition. Think of an orchid growing in the air, absorbing light, oxygen, humidity and nutrients from its surroundings. Airponix enables farmers to replicate this unique ecosystem at scale, extending the benefits to produce like potatoes and other root vegetables, plus a range of healthy, delicious crops.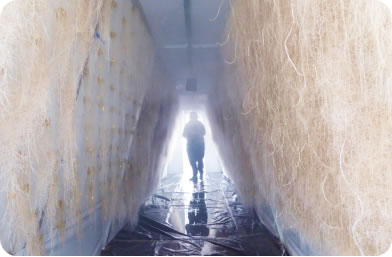 What's the Airponix difference? It all comes down to our game-changing fog, which surrounds plants' roots and enables them to absorbs the exact nutrients, water, and oxygen they need, when they need it. Think of it as the 'nirvana of plant happiness' – an optimal ecosystem in which crops thrive.
By creating ideal growing conditions, you can unlock an unprecedented range of crops, anywhere in the world. From potatoes and other root vegetables, to a vast range of produce, our specialised A-frame system means highly efficient agriculture, at scale, wherever you need it.
Better returns
The Carbon Neutral Future Food Solution
More yields, more high-quality produce, more food security for low-water, land-scarce areas
Less water, less land, less carbon emission, and zero toxic chemicals.
High density vertical farming
Airponix works in partnership with the following organisations:
We are looking to partner with international growers who are interested in optimising seed potato production.
If this sounds like you, get in touch.